Star of David Jerusalem Cross Pendant Necklace in Sterling Silver
SKU:
QPM780S
The Star of David 
The Star of David, also know as the Magan David (Shield of David), has been a symbol associated with Judaism for centuries. A stone bearing the Star of David in a synagogue 
in the Galilee dates back to the 3rd century. It is believed to have been used as a decorative design.A Star of David was used in the year 1108 in the Leningrad Codex, which is the 
oldest complete edition of the Hebrew Bible in existence. The term, Magan David,was used as early as the 11th century as a name for the God of Israel, where God is compared to 
a shield in the divine protection of King David. 

citation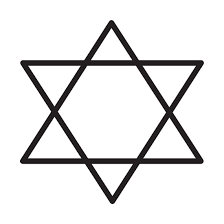 Jerusalem Cross
The Jerusalem cross is believed to represent several things.  Historians note that the four crosses surrounding the large center cross represent the four Gospels of Matthew, Mark, 
Luke, and John. The four crosses also are believed to represent the four corners of the earth, in which Jesus desired His word to be proclaimed by His disciples. The large cross 
symbolizes Christ. Other historians believe that the five crosses together symbolize the five wounds Jesus suffered on the cross. The four small crosses represent the four wounds 
of Jesus' hands and feet, while the large cross signifies Jesus' pierced heart. citation




Item Specifications 
With a elegant style, this pendant was delicately handcrafted to perfection by our specialist jewelers with more than 35 years of experience. This designer piece, bringing 
modern fashion to a whole new level, was made with intricate detail.. With all that elegance it is no wonder this piece has become such a popular fashion statement! With 


an atmosphere of brilliance, this piece was made with pure .925 silver and topped off with a glossy high polish finish. Combine this piece with your own unique style!
Metal: Sterling Silver
Finish: High Polish   
Height Including Bail: 1.31 IN (33.3 MM)
Width: 0.9 IN (24.1 MM) 
Proudly Handcrafted and Manufactured in the USA.
 





 








Width:
0.90 (in)
Height:
1.31 (in)